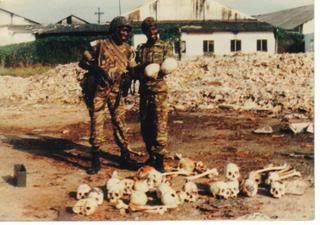 Problem
:
We live in a violent society which is conducive to random killings. Whether we blame the media; poverty; poor education; or even the government's imperialistic agenda (constant state of war and terror); - we have to face this fiasco and remedy it.
Solution
:
To welcome certain acts of violence and to shun others has proven futile in nurturing a healthy society. Hence we have given violence its fair chance: for throughout history we have allowed war; aggression; and patriarchal methods. Is it not time to "
just give peace a chance
"?
Methodology
:
If in the absent of violence there is peace, then it is non-violent methods we seek.
Ideally we would be able to seek a solution in a 'top down model' - where the government would change certain policies and the violence would diffuse. As nice as that would be - it is unrealistic and many would suggest that the solution lays more at a grassroots level in a 'bottom up model'.
Yet the grassroots level may very well be a too high of a point to start as well - for the ultimate change lays in the individual. For before individuals can congregate and collaborate for a greater communal consciousness - they themselves must have actualized its virtues.
To anticipate the such: individuals laboring at finding peace within themselves - would be at best - naive. The probability that individuals will self-motivate and began the arduous task on their own is close to zero.
Thus the method to finding communal wellness lays not within top down or bottom up models - but rather lays in every facet of the society becoming involved in "refinement." Example can be made of China's recent 'refinement regiment' (
i.e. no spitting in public spaces
)- to better present itself for the upcoming Olympics. From the governance to the media; private enterprise; academia; and grassroots - every asset of society must be mobilized in finding better citizenry and communal wellness.
Task
:
Thus to bring non-violence into our societies psyche - individuals must let go of their violent thoughts; methodologies; and actions. This begins with deep introspection and studies aided by a strong will to live righteous. Realization of concepts that have been scribed about non-violence: i.e. it is not a double negation as in 'not getting angry is non-violence' - rather non-violence lays in refining one's thoughts and actions and coming to higher understandings of life and its processes...