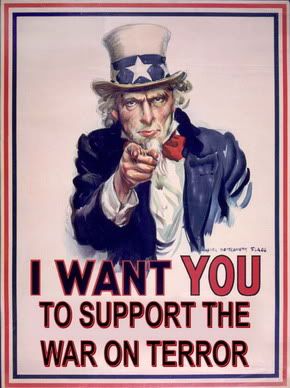 If I hear the word "Terrorist" one more time in the News - I will have to physically throw my television out of the window (hopefully landing on Lou Dobbs.)
By definition, "
Terrorism is the unlawful use of force or violence against persons or property to intimidate or coerce a government, the civilian population, or any segment thereof, in furtherance of political or social objectives." (
US Federal Bureau of Investigation
.)
Think about that definition long and hard 'outside of the box'.
Thus it can be said that any country who uses violences against another government or a civilian population for its social or political ends is a Terrorist.
Hence, the paradox: the Republic of the United States of America has more than
700
bases overseas and in over 36 countries. Since 1798 to 1983 the Republic has engaged in well over
234
conflicts and wars. This number does not include the endless list of American Indian Battles/ wars which were fought from 1777 to 1974; nor does it include armed insurrections and slave rebellions; domestic conflicts; nor does it account for all of the covert operations U.S. agencies have been involved in: i.e. The Republic of Congo, Dominican Republic; Brazil; Guyana; Greece; Bolivia; Peru; Haiti; Guatemala; Fiji; El Salvador...
This is why it is so annoying to keep hearing the word "terrorism" in our mainstream media. It is trenched in hypocrisy and frankly it sounds absolutely absurd and ignorant. Yet like zombies our neighbors; families; co-workers seem to legitimize our governments actions with the notion that it is fighting terrorism. Thus we have terrorists using terrorism to terrorize the terrorists.
But hey before we blame the Bush Administration, lets remember that our present governance has only continued in our Nation's legacy: TERRORISM.
For a list of wars/conflicts please see:
http://www.history.navy.mil/wars/foabroad.
For another list of conflicts/ wars/ or general involvement (i.e. military aid...):
http://en.wikipedia.org/wiki/List_of_United_States_military_history_events
A Map showing a few of these conflicts:
http://www.mapsofwar.com/ind/american-wars.html
Terrorism, lol, READ THIS!
http://www.prisonplanet.com/articles/september2006/210906planebomber.htm
SOA:
http://www.soaw.org/
Wbat is the Schools of America?:
http://en.wikipedia.org/wiki/Western_Hemisphere_Institute_for_Security_Cooperation