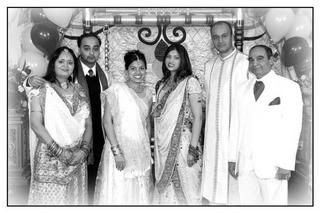 Today we gather here to celebrate one man's birthday. We eat, drink, laugh and dance to celebrate his special day…. But we live in a fast paced world, where the hours of time pass us so fast, that sometimes we truly forget why we do the things we do.
As such, allow us to remember that today is not just my father's special day, but rather a special day for all of us that love him – for we have been blessed with another day, another hour, another year with our beloved. It is we who celebrate – because we know that we have the comfort of his love, the security that only his heart can provide, and his strength that guides us in our lifes path.
To best understand what a father endures, The great poet Kahlil Gibran once said:
"You are the bows from which your children as living arrows are sent forth.
The archer sees the mark upon the path of the infinite, and He bends you with His might that His arrows may go swift and far."
As such, my father has allowed the greatest archer, God – to use him as a bow – and he endured being bent, as a bow does: so that my brother and I, the arrows – may travel far and strong….
Many know that my father has done a great deal for both our family and our community – but what most don't know what it takes to do what he has continuously achieved. The man has awoken consistently every morning for the past 35 years, to spend his entire day working. From early morning to late at night, as the rest of us played, watched t.v. or read books – my father sat in his office buried in a pile of paperwork.
Most of my life, I resented him for that, I would say – I rather have a poor father – but one who would spend more time with me.
But this was my youth speaking - I was too young to understand that my father was working so hard – so that he can provide a better life not only to my mother, brother and I – but to more then 8 other families. He has sacrificed his time, his life – so that other's may live.
He has continuously stood as a pillar to both our nuclear family and extended. He is there for those within our community, as such - I often see men come late at night – simply seeking advice from my father. Many come in times of despair, when a good man's friendship is necessary.
what I didn't understand, was why he cared for everybody – but me.
But the truth is, my father gave me a wealth – the greatest riches in life – he taught me how to love, to love unconditionally and taught me how to be there for the people around me. My father's lessons have taught us all – and has taught us well.
Today my brother is an attorney – and as of yet I have never seen him advice another in a wrong way – he often doesn't worry about profits and helps people who need him. This virtue was not taught at law school, he learned it from watching my father. I want to teach, perhaps be a professor one day – this want of working with others is my father's teachings to me.
This is but just one achievememnt of my father, there are many others I can speak of – as such as teaching us how to challenge ordinary thinking – to think outside the box. Remember he was the man who married a women, my beautiful mother, outside of the community understanding – he challenged and won against the caste system by having a successful marriage. He journeyed here to America, to speak of another achievement – not because America is anyway better then our India – but simply an achievement for having the courage to voyage half way across the world – to start a new life for him and our families.
So today remember, we are not here just to eat, drink, laugh and dance – but rather we are here to be reminded - that we have the opportunity to spend one more day, one more year, and simply just more time with the man that has loved us all unconditionally, my father Chandrakant Shantilal Shah.
Love u didi.